About Altia
Transformation, technology, talent
Your digital company with a global vision
We are the digital company with global vision that will provide you consultancy services, development and maintenance solutions, and evolved technology services.
We were created to lead digital transformation from the best professional skills, innovation and self-determination.
With more than 25 years of experience, we are one of the first independent companies in its field, without any attachment with ITC groups, industrial or financial, with an increment based on service vocation and the dedication with our clients.
Founded in 1994
In Altia we base our growth in the presentation of evolved services guided by the client in diversified sectors.
Including industrial, financial, services sector, telecommunications environment, health area, energy and public administration.
Outstanding numbers
Altia has launched itself since 2010 into the BME Growth (before it was MaB) in the expanding business segment. Currently, is part of IBEX Growth Market® All Share and from IBEX Growth Market® 15 that measure the behaviour of the fifteen companies with the highest volume of contracts.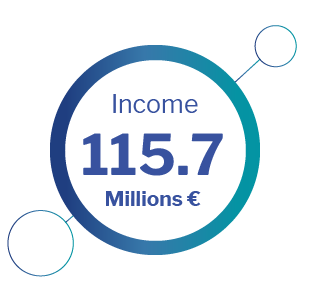 Exercise closure data 2019. Figures added after Noesis acquisition.
Our references
More than 800 clients, national and international, from all the economic environments, they have already trusted in our company.