We have launched Hunters, an ambitious programme intended to find young IT talent to join our company.
The programme is aimed at recent graduates or students who are about to finish their degree and want to start out as professionals in the IT sector by being part of a multidisciplinary team with the capacity to generate and share knowledge. In a first phase, this programme was created for the Alicante office, although in the short and medium term, our plan is to expand this initiative across the rest of our offices.
The programme was created with the purpose of building a team ready to hunt trends and bring in innovation and new approaches to doing things that provide differential results. The hunters will be provided with a mentoring, motivation and training programme that will enable them to foresee future challenges and provide solutions in Altia's projects through research, the creation of new tools and by subsequently sharing their technological knowledge with the rest of the company. The Hunter team will become a real benchmark within the company.
"We want a team made up of proactive people who choose their own area of expertise, with the ability to provide the most efficient and powerful vision for each possible solution and who form a cutting-edge technological team," says José Luis Anton, software architect at the Alicante office and head of the initiative. "We want them to be in touch with the latest technologies and be able to explain to the rest of the company what these do, how these work, and on which projects they can be used, as well as to point us to new approaches and new ways of doing things. Being a hunter means taking on the challenge of trying new solutions that bring differential results. In short, we want talent and technology to go hand in hand in this programme. To do this, we are building a team of people with a passion for technology and who are looking for a life career in the IT sector."
Valencian Community and Murcia
Candidates are being recruited in the universities of the Valencian Community and Murcia to join the Alicante office, which has already taken on the first members of the team. "To be a hunter you need a certain technological background and, above all, concepts rather than technology, as well as a lot of motivation and guidance," says José Luis Anton. "The goal of the Hunters programme is to provide them with opportunities for personal growth and to strengthen the different architecture areas of the company," says Anton.
In a first phase, the Hunters programme has been launched in the Alicante office with the plan to extend it to the rest of Altia's offices in Spain, Portugal, Brazil, Chile, the United States, Ireland and the Netherlands in the short and medium term.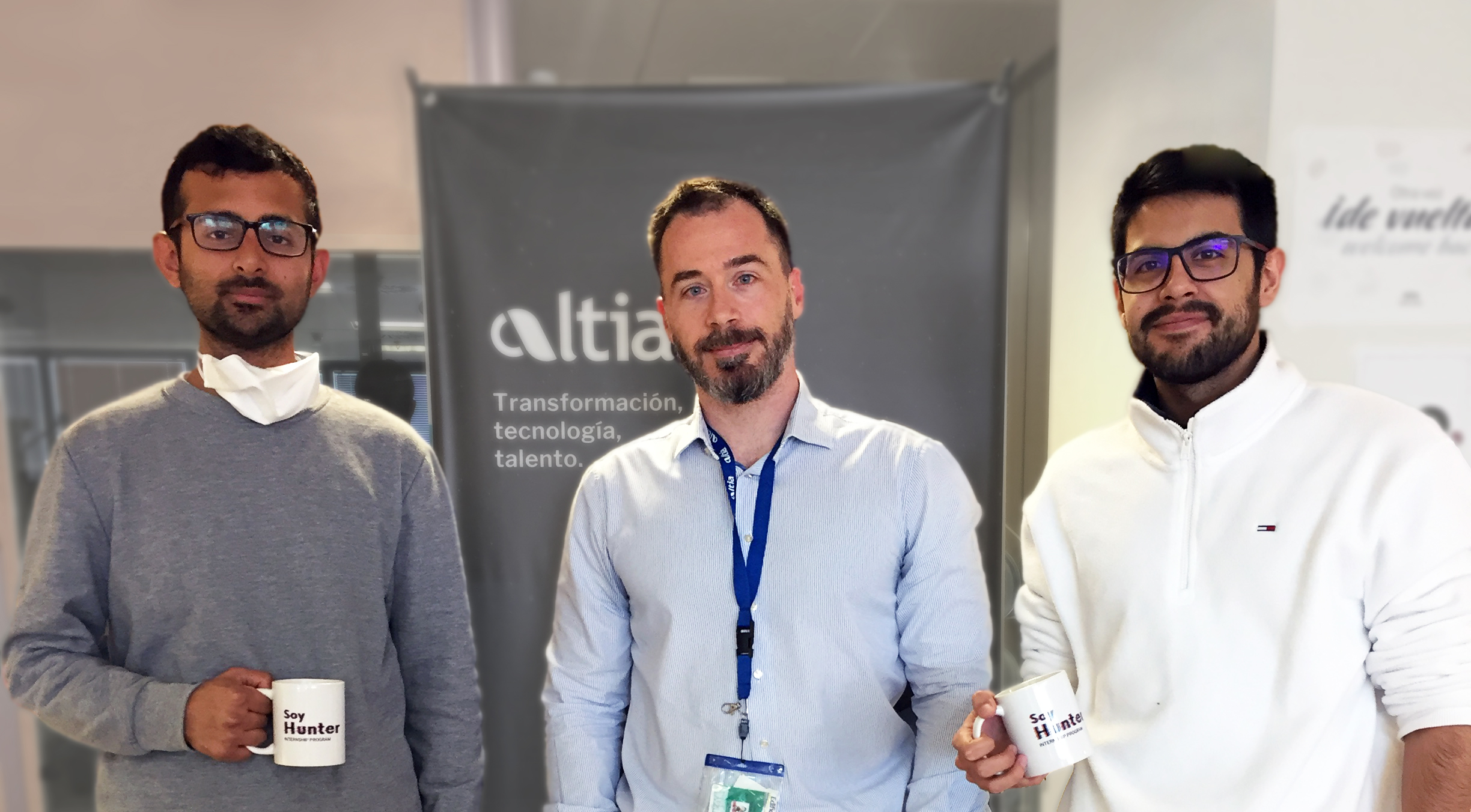 Tahir Farooq, José Luis Antón and Nicolás Cuello