We continue our growth process.
We have acquired 100% of Bilbomática for 24 million euros. The operation involves the integration of more than 550 professionals from the Basque technology company based in Bilbao. This means our workforce now stands at over 3,200 people and reinforces the idea of solid and orderly growth that we have been carrying out since our stock market debut in December 2010.
Since its foundation in 1988, the ICT consulting and software engineering company Bilbomática, based in the Basque Country, has specialized in the digital transformation of the public sector in areas such as public administration, environment, health, tourism, innovation, industry, social welfare, utilities and energy, among others. The company has extensive experience in technology areas such as GIS, Microsoft, Java, web portals, interactive data visualization, document management, mobility, and augmented and virtual reality, all adhering to advanced information security standards. All these capabilities now form part of Altia; our services range continues to grow with the incorporation of new solutions and technologies, and we are thus able to extend our first-class technological service offerings to our customers.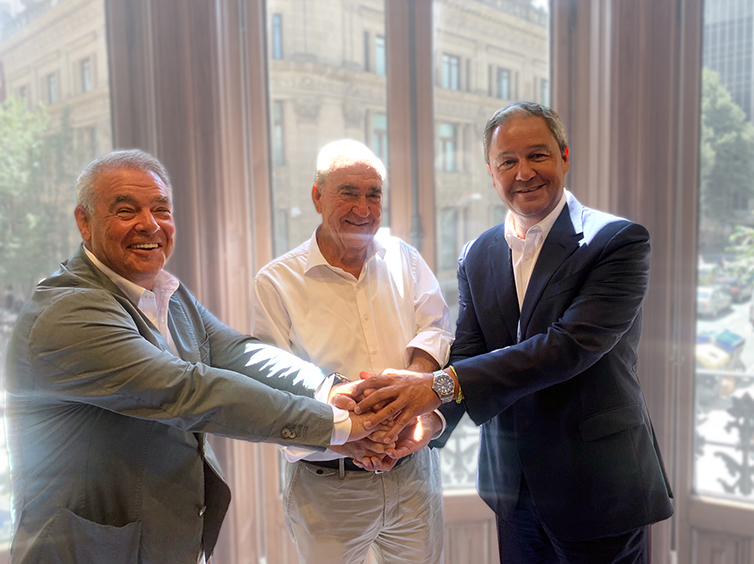 From right to left: Constantino Fernández (President of the Altia Group) - Víctor Malpartida (President of Bilbomática) - Walter Mattheus (CEO of Bilbomática)
Altia Group's
largest ever
acquisition
A ground-breaking
leap forward
for our Company
Multiplying
our capabilities
High technological profile and strong management team.
The more than 550 professionals who are being integrated into Altia have a high technological profile and are located mainly in Bilbao, Madrid, Pamplona and Vitoria. The company's incorporation into the Altia Group is particularly important in the current situation of tough competition for the acquisition and retention of talent. The Altia Group now has a workforce of more than 3,200 people, with an almost-equally divided presence at national and international levels. In turn, the management team that is coming on-board, with proven solidity and solvency, will contribute to the growth and development of the Group by bringing their experience into an expanding business project.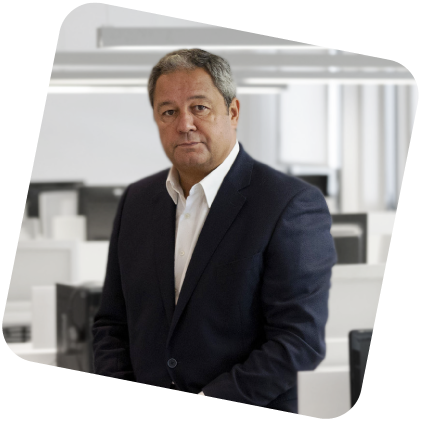 "Today is one of the most important days for our company, as we close a very important deal for its history."
"The great experience Bilbomática has, especially in the public sector, its position in the Basque Country and Navarre, as well as its broad portfolio of clients and projects within the European Union, will enable us to strengthen our position as one of the main suppliers to both Spanish public administrations and European agencies. It is undoubtedly the perfect complement to our current service offering, while opening up new opportunities for professional and personal development for all the people who are part of the Altia Group."
Constantino Fernández · President of the Altia Group
Bilbomática ended 2021 with revenues of 36.44 million euros and EBITDA of 2.65 million, clear indicators that it is a business with a growing trajectory and a solid projection, confirmed by further growth in the first half of 2022.

Víctor Malpartida and Walter Mattheus, President and CEO of Bilbomática, respectively, point out that "this operation will allow us to strengthen the business of Bilbomática and continue with its growing trajectory in diverse geographical areas, strengthening the capabilities of service for our clients." "In the same way," they add, "it is a great opportunity for professional and personal development for our teams, as part of a group with which we share values, strengthening a joint project with broad projection."

From Altia, we ended the 2021 financial year with a turnover of 125.9 million euros (129.9 million euros in 2020), with a net profit of 8.7 million euros (41% up on 2020). The net margin was 6.95%, compared to 4.77% in 2020, and EBITDA reached 13.7 million euros, up 16.8% from the previous year.

In 2021 the process of integrating Noesis, acquired in 2020, was completed and the presence at international level was enhanced with a strengthened commitment to our business in Chile, the incorporation of business in Andorra and a greater presence in various European bodies. On July 18, we announced the acquisition of Wairbut.